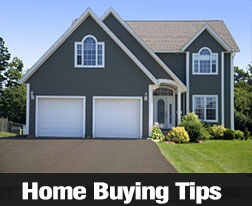 Buying real estate for the first time is a very exciting step in life.
It is likely to be one of the biggest financial commitments that you make, so it's very important to navigate the purchasing process wisely.
Many first-time home buyers make rookie mistakes that bring on negative consequences and a lot of frustration.
Outlined below are common errors home buyers make, so you can learn from their missteps and avoid them yourself.
1. Buying More Than What You Can Truly Afford
Just because the bank says that you qualify a certain amount for a mortgage doesn't mean that you have to choose a house at the very top of this price range.
Many people get carried away and buy the most expensive house that they qualify for.
If something unexpected happens, they may find it difficult to keep up with their monthly mortgage payments later on.
Remember that you will also have student loan payments, vehicle costs, credit card bills, health insurance, groceries, retirement savings and other expenses, so make sure that your mortgage payments will comfortably fit within your budget.
2. Failing To Get A Home Inspection
Before buying a house, you should always have a professional inspection done. Not doing so is a big mistake.
You don't want to get stuck with hidden damage that could saddle you with the expense of ongoing repairs.
Hiring a professional to assess the home's condition is absolutely essential before making your final decision.
3. Disregarding Your Future
When you are buying Ardmore real estate, don't just think about how the home will work for you in the immediate future.
Also consider what your needs will be five, ten or even 20 years from now.
Find out the development plans for the neighborhood.
Look for reputable schools if you intend to start a family.
And consider whether the street's home values are likely to increase or decline in the future.
Your Next Steps
Don't let the home-buying process overwhelm you!
Learn from these common first-time home buyers' mistakes, so you can avoid them.
A great next step toward planning for your first home purchase is to consult with a trusted, licensed mortgage professional who is trained in providing the best advice on how a new home will affect your budget.