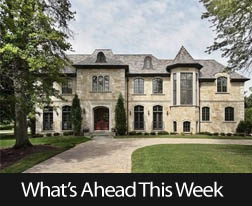 Last week's economic news was mixed, with new home sales increasing and weekly jobless claims higher than expected.
Case-Shiller and FHFA home price reports reflected slower growth in home prices. Mortgage rates moved higher for the third consecutive week.
Weakness in the jobs sector and harsh winter weather were seen as factors contributing to economic events, but sales of new homes jumped unexpectedly to their highest since 2008.
Case-Shiller, FHFA Report Slower Growth for Home Prices
The Case-Shiller composite home price index for December reported that home prices declined by 0.10 percent in December, which was the second consecutive monthly decline.
On a seasonally adjusted basis, home prices rose 0.80 percent in December as compared to November's reading of 0.90 percent. Year-over-year, home prices grew at a rate of 13.40 percent, their fastest pace since 2005.
The momentum of year-over-year home prices declined in December as compared to November's year-over-year reading of 13.70 percent. 11 of 20 cities included in the Case-Shiller composite index declined.
Analysts said that low inventories of available homes, higher mortgage rates and severe winter weather contributed to slower growth in home prices.
FHFA's quarterly House Price Index for the fourth quarter of 2013 posted its tenth consecutive gain in quarterly home prices. Seasonally adjusted home prices rose by 0.80 percent from November to December 2013.
FHFA, which oversees Fannie Mae and Freddie Mac, reported that home prices increased by 7.70 percent from the fourth quarter of 2012 to the same period in 2013. Adjusted for inflation, the agency reported a year-over-year increase of 7.0 percent.
FHFA House Price Index data is based on sales information for homes with mortgages held or securitized by Fannie Mae and Freddie Mac.
Fixed Mortgage Rates, New and Pending Home Sales Rise
Freddie Mac reported that average rates for fixed-rate mortgages rose last week, with the rate for a 30-year fixed rate mortgage rising 4 basis points to 4.37 percent.
The rate for a 15-year mortgage also increased by 4 basis points to 3.39 percent. The average rate for a 5/1 adjustable rate mortgage fell by 3 basis points to 3.05 percent. Discount points were unchanged at 0.7 0 percent for fixed rate mortgages and 0.50 percent for a 5/1 adjustable rate mortgage.
Weekly jobless claims also rose to 348,000 against projections for 335,000 new jobless claims. The four-week average for new jobless claims remained steady at 338,250.
The Department of Labor noted that weekly readings are more volatile than the four -week average reading. Poor winter weather and a softer labor market were cited as possible causes for the jump in new claims.
New home sales provided unexpected good news; they jumped by 9.60 percent in January, to a seasonally-adjusted annual rate of 468,000 sales against expected sales of 405,000.
December's reading was upwardly revised from 414,000 to 427,000 new homes sold.
January's reading was the largest increase in new home sales since July 2008, and there may be more positive housing news ahead as builders said that some of the sales lost during winter months may be recouped during spring.
Pending home sales increased by 0.10 percent in January to an index reading of 95 as compared to December's reading of 94.9, which was the lowest reading since November 2011.
What's Coming Up
This week's scheduled economic news includes construction spending, the Federal Reserve's beige book report, weekly jobless claims, and Freddie Mac's report on mortgage rates.
On Friday, the Bureau of Labor Statistics releases its Non-Farm Payrolls and National Unemployment reports for February.