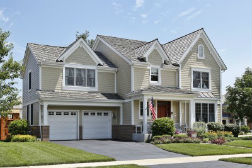 Last week's housing related economic reports were slim, but an unexpected increase in weekly jobless claims gained attention. Analysts calmed concerns by noting that last week's reading of 315,000 new jobless claims was not far removed from jobless claim levels before the recession. Expectations for last week's reading were for 301,000 new jobless claims based on the previous week's original reading of 302,000. The previous week's reading was revised to 304,000 new jobless claims.
Jobless Claims: 4-Week Average for Continuing Claims Hits Lowest Level Since 2007
Prospective home buyers and current homeowners typically consider their jobs and employment prospects before seeking a home purchase mortgage or refinancing their existing home loans. Last week's readings released by the Department of Labor suggest that while weekly jobless claims increased, overall trends in hiring and continuing jobless claims indicate a stronger labor sector.
The four-week average of new jobless claims rose from 303,250 to 304,000. The four-week average is typically less volatile than week-to-week readings. Continuing jobless claims increased by 9,000 to 2.49 million for the week ended August 30. The four-week average for continuing jobless claims fell by 15,500 claims to 2.50 million continuing jobless claims. This was the lowest reading for continuing jobless claims since 2007.
In other labor related news, job openings were nearly steady at 4.67 million in July against June's reading of 4.68 million new job openings. The Labor Department reported that job openings increased by 22 percent year-over-year, with private sector jobs rising to 4.19 million job openings and government jobs increasing by 101,000 job openings to 485,000 in July. The number of hires in July rose from June's reading of 4.79 million to 4.87 million in July. This was the highest number of hires since 2007. Pre-recession hiring levels were approximately 5 million; this suggests that U.S. labor trends are approaching pre-recession levels.
Mortgage Rates Rise, Discount Points Unchanged
Freddie Mac reported higher mortgage rates on Thursday, with average discount points unchanged at 0.50 across the board. Average rates for a 30-year fixed rate mortgage rose from 4.10 percent to 4.12 percent; the average rate for a 15-year mortgage was two basis points higher at 3.26 percent and the average rate for a 5/1 adjustable rate mortgage rose to 2.99 percent from the prior week's average of 2.97 percent.
What's Ahead
This week's scheduled news includes several reports related to housing. In addition to Freddie Mac's usual mortgage rates report, The National Association of Home Builders (NAHB) will release its Housing Market Index and the Department of Commerce will release data on housing starts in August. General economic reports include the Consumer Price Index, Core Consumer Price Index, and Leading Economic Indicators.
The Federal Open Market Committee of the Federal Reserve will release its post-meeting statement on Wednesday, and Fed Chair Janet Yellen is also expected to give a press conference. The Federal Reserve may provide further indication of its intention concerning the target federal funds rate, which is currently at 0.00 to 0.250 percent. The Fed may address its intentions concerning the federal funds rate, but the FOMC has been consistently vague about details concerning its economic strategy.