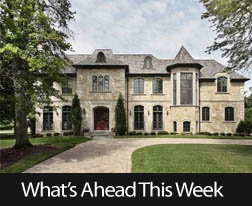 Last week's events included the National Association of Home Builder's Housing Market Index, which fell to its lowest reading since last summer. Other news included reports on housing starts and building permits, the FOMC meeting statement and Fed Chair Janet Yellen's press conference.
Home Builder Confidence Falls, Building Permits Rise
The NAHB Wells Fargo Housing Market Index fell by two points for a reading of 53 in March. The expected reading was 57. Analysts said that this proves that lower mortgage rates and steady job growth aren't fueling housing markets as expected. NAHB chief economist David Crowe also cited supply chain issues such as a shortage of available lots, labor shortages and tight mortgage underwriting standards. Home builders remain optimistic that as labor markets continue to improve and more home buyers enter the market during the traditional spring and summer buying season, that builder confidence will also grow.
The Department of Commerce reported that building permits for February rose from January's reading of 1.06 million to 1.09 million. This represents a 3.00 percent increase and was the highest reading since October. Permits fell for single family homes fell by 6.20 percent in February, but were 2.80 percent higher year-over-year. Single family permits account for 75 percent of building permits issued.
Housing starts fell dramatically due to bad weather. The Northeast saw housing starts fall by 56 percent due to extreme snowfall; Housing starts in the Midwest fell by 37 percent and the West saw housing starts decline by 18.20 percent in February. The South reported a 2.50 percent decrease in housing starts, but since nearly 50 percent of housing starts are in the South, this decline is more significant than it appears.
Fed Rates Hold Steady, Mortgage Rates Fall
The Federal Reserve noted in its post FOMC meeting statement that the Fed is in no hurry to raise rates. Citing ongoing concerns about low inflation and a sluggish housing market recovery, the Fed's policymakers indicated that they don't plan to rush on raising the target federal funds rate. In her press conference held after the FOMC statement, Fed Chair Janet Yellen reiterated the Fed's intention to raise rates only when domestic and global economic developments warrant.
Mortgage rates fell according to Freddie Mac with the average rate for a 30-year fixed rate mortgage eight basis points lower at 3.78 percent. The average rate for a 15-year mortgage was four basis points lower at 3.06 percent; the average rate for a 5/1 adjustable rate mortgage was also four basis points lower at an average rate of 2.97 percent. Discount points were unchanged at an average of 0.60 percent for fixed rate mortgages and 0.50 percent for 5/1 adjustable rate mortgages.
What's Ahead
This week's housing-related news includes new and existing home sales, the FHFA home price index and FHFA's home price index. Freddie Mac mortgage rates and weekly jobless claims will also be released as usual on Thursday.