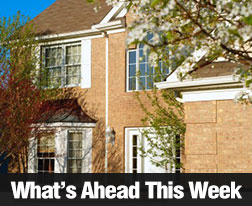 Last week's economic news was quiet in the housing sector, but retail sales and employment-related reports provided indications of less consumer spending and reduced consumer confidence.
On Monday, James Bullard, St. Louis Fed President, commented that inflation appears to be rising. Although not a voting member of the Fed's Open Market Committee (FOMC), inflation has been a topic of concern to the FOMC in recent years. Mr. Bullard had previously noted that inflation was stable.
His remarks set the stage for this week's FOMC meeting and press conference by Fed Chair Janet Yellen. Analysts expect the Fed to continue tapering its asset purchases as it winds down its quantitative easing program.
Labor related reports were mixed last week. Job openings in April rose to 4.46 million in April; this was the highest reading since September 2007 and exceeded the March reading of 4.17 million job openings in March.
More good news came from the U.S. Labor Department, which 4.71 million hires in April. This was the highest rate of hiring since June 2008 and represented a year-over-year increase of 6.00 percent. At the start of the recession at the end of 2007, about 5 million job openings were reported.
Mortgage Rates, New Jobless Claims Rise
Weekly jobless claims were reported at 317,000 as compared to expectations of 310,000 new jobless claims and the prior week's reading of 312,000 new jobless claims. The four-week rolling average of new jobless claims rose by 4,750 new claims for a total of 315,250 new jobless claims. The four-week gauge of jobless claims evens out weekly volatility and is viewed by analysts as a better indicator of labor market trends.
Mortgage rates were higher according to Freddie Mac. The average rate for a 30-year fixed rate mortgage rose by six basis points to 4.20 percent; discount points rose from 0.50 to 0.60 percent.
The average rate for a 15-year mortgage rose by eight basis points to 3.32 percent with discount points unchanged at 0.50 percent. The average rate for a 5/1 adjustable rate mortgage rose from last week's reading of 2.93 percent to 3.05 percent. Discount points were unchanged at 0.40 percent.
The Fed's quantitative easing program was implemented to control long-term interest rates, including mortgage rates. Gradual tapering of this program is allowing mortgage rates to rise. Other influences include investor concerns over recent decisions made by the European Central Bank.
Consumer sentiment slipped slightly for June according to the University of Michigan Consumer Sentiment Index. June's reading was 81.20 as compared to an expected reading of 82.80 and May's reading of 81.50.
What's Ahead
Next week's scheduled economic news includes the NAHB Housing Market Index for June and Housing Starts for May. These readings are important indicators for housing supplies, as a lack of builder confidence can translate to fewer housing starts. Housing markets were impacted by high demand for homes against low inventories of available homes during 2013 and into 2014.
Also noteworthy is the FOMC post-meeting statement and Fed Chair Janet Yellen's press conference. The FOMC sets the Federal Reserve's monetary policy and is expected to announce further tapering of the Fed's quantitative easing program. It will be interesting to learn the Fed's perspective on inflation, which has been stuck below the Fed's target level of two percent.
Friday's release of Leading Economic Indicators for May round out this week's economic reports.