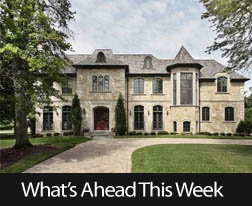 2015 said farewell with reports on Case Shiller home prices, pending home sales, and consumer confidence. The details:
Case-Shiller Home Prices Post Double Digit Gains in October
According to Case-Shiller's 20 City Home Price Index, Denver, Colorado, Portland, Oregon and San Francisco, California tied for the highest home price gains in October with year-over-year home price gains of 10.90 percent. Lowest annual price gains were posted by Chicago, Illinois at 1.30 percent followed by Washington, D.C with a year-over-year –reading of 1.70 percent. Home prices rose at their fastest rate since August 2014 according to Case-Shiller.
Month-to-month home prices showed mixed results in October. Miami, Florida posted the highest month-to-month gain of 0.70 percent. San Francisco, California posted a gain of 0.60 percent; Phoenix, Arizona and Portland, Oregon posted month-to-month home price gains of 0.60 percent.
Cities posting month-to-month declines in home prices included Chicago, Illinois where home prices declined 0.70 percent, Cleveland Ohio and San Diego, California posted month-to-month declines of 0.40 percent, Washington, DC home prices dropped 0.30 percent month-to-month. Home prices in Boston, Massachusetts and Las Vegas, Nevada were unchanged in October from September readings.
While Case-Shiller's 20-City Index remains 11 to 13 percent below 2006 peak home prices, the index is approximately 36 percent higher than lowest home prices posted in 2012.
Pending Home Sales Dip in November
According to the National Association of Realtors®, pending home sales dipped 0.90 percent in November after posting a gain of 0.20 percent in October. Analysts expected a 1.0 percent gain in pending sales for November. Pending home sales peaked in May 2015, but short supplies of available homes and rising prices have caused home sales to slow. Pending home sales are defined as homes for which a sales contract is signed, but aren't yet closed. November's pending sales were 2.70 percent higher than for October and represented the 15th consecutive month of annual gains in pending home sales.
Regional results for November's pending sales were mixed. The Northeast reported a reading of 91.8, which was nearly three points lower than October's reading. The Western region posted a reading of 100.4, a decline of nearly 6 points. The Midwestern region posted a gain of one point to a reading of 104.9. The South had the strongest reading for pending home sales in November with a reading of 119.9, which represented an increase of 1.50 percent.
The National Association of Realtors® expects sales of pre-owned homes to top out at 5.25 million for 2015, which would be the highest reading since 2006. The national median home price for pre-owned homes is $220,700, which is six percent higher than in November 2014.
Mortgage Rates, Consumer Confidence Rise
Freddie Mac reported that the average mortgage rates rose across the board last week. The average rate for a 30-year fixed rate mortgage was three basis points higher at 4.01 percent; the average rate for a 15-year fixed rate mortgage was two basis points higher at 3.24 percent and the average rate for a 5/1 adjustable rate mortgage also rose two basis points to 3.08 percent. Average discount points were unchanged at 0.6, 0.6 and 0.4 percent respectively.
On a positive note for year-end, consumer confidence increased to a reading of 96.5 in December as compared to November's upwardly revised reading of 92.6 and an expected index reading of 93.50. Analysts were relieved to see increasing consumer confidence after an unexpected decline in November.
What's Ahead
This week's scheduled economic news includes reports on construction spending, the government's Non-farm Payrolls report and ADP's payroll reports. Labor reports act as potential indicators of future housing markets as steady employment is typically a major factor in home-buying decisions.