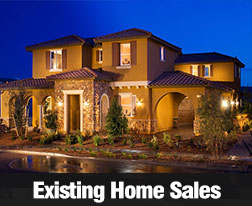 November sales of pre-owned homes dipped lower than expected and prior month's readings according to the National Association of Realtors® (NAR). Analysts expected existing home sales to slow to a seasonally-adjusted annual rate of 5.30 million sales, which was based on October's reading of 5.32 million sales. Instead, November's reading dropped to 4.76 million sales. November's drop represented a decline of 10.50 percent drop in existing home sales month-to-month; existing home sales were 3.80 percent lower year-over-year.
November's reading represented the first time since September 2014 that the year-over-year reading for sales of pre-owned homes was lower than for the previous month. November's reading was also the sharpest dip in pre-owned home sales since July 2010 and was cited as a "statistical anomaly." Such a sharp drop in sales is unusual except when housing tax credits expire and cause home sales to drop after a last minute increase in home purchases by home buyers rushing to gain a tax credit advantage.
Tight Supply of Homes, New Regulations Cited as Cause for Lower Sales
A lean supply of available homes has caused rising demand for homes in 2015; an inadequate supply of homes typically causes prices to rise and sales to fall as affordability decreases. First-time buyers accounted for 30 percent of all home buyers in November, but the first-time buyers usually account for 40 percent of buyers. The national average home price rose to $220,300 in November, which represents a year-over-year increase of 6.30 percent. Home prices are rising faster than wages, which presents a major obstacle for would-be home buyers.
There was a 5.1 month supply of existing homes for sale in November, while the average supply is six months. Lawrence Yun, NAR's chief economist, said that new regulations that increased the closing period for many home sales may have pushed more sales into December that otherwise would have closed in November.
Distressed property sales involving bank-owned homes and short sales increased in November, but this was due to financial institutions offering more homes for sale than in previous months. Analysts said that the increase in distressed sales did not represent an increase in mortgage default and foreclosure rates.
NAR forecasts that existing home sales will reach 5.20 million during 2016; this represents an increase of 2.90 percent. Upcoming reports on new and pending home sales will help provide a general picture of housing market trends as 2015 winds down.