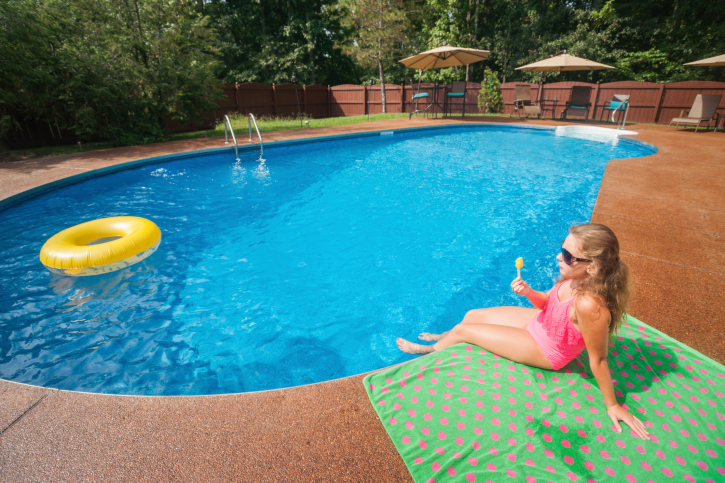 The warmer summer months provide homeowners with the ideal conditions for making improvements to their property. One of the more popular options for summer time improvement ideas is installing an in-ground swimming pool. While a swimming pool may seem like a pure luxury to some, there are actually considerable benefits that homeowners can enjoy by adding an in-ground pool. With closer consideration, homeowners may decide that this is the ideal improvement to make to their property.
The Perfect Place For Relaxation And Entertainment
Many homes provide ample space for basic living, but they often lack an extra space that is well-suited for personal relaxation and for entertaining family and friends. An in-ground swimming pool can enhance a backyard area and can create the ideal space for everything from spending quiet, lazy afternoons alone to hosting a backyard get-together with family and friends. This can be a true extension of the home that improves its functionality in a number of ways.
Beautification For The Backyard
More than that, a backyard swimming pool can beautify the yard tremendously. This is a feature that enhances ambiance as well as function through its tranquil, serene water and the general décor of the pool itself. While additional landscaping can be improved around the pool, the pool itself can create a luxurious, relaxing look to a backyard.
Enhanced Appeal When Selling The Home
A swimming pool may not always have a direct impact on property value, it can improve desirability. Some home buyers may not want a pool, but many will choose a home that has a swimming pool over one that does not have one in a head to head comparison. Therefore, a swimming pool installation project now may give a property enhanced appeal later when the homeowner decides to sell it.
There may be a number of different home improvement projects for homeowners to consider completing this summer, but many will want to place the installation of a backyard swimming pool at the top of their list. With so many benefits associated with having an in-ground pool, this is an option that homeowners should take a closer look at.