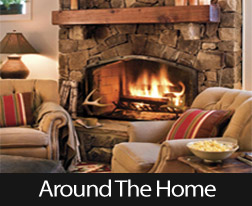 When it's cold outside, there's nothing quite as cozy as curling up on the sofa with a good book in front of a roaring fire. A fireplace evokes the idea of a warm and pleasant atmosphere.
However, if it isn't properly maintained, your living room could be filled with a cloud of soot, or worse, fire. A fireplace not only creates a snug setting, but most are actually functional and can help heat your home.
Harness their heat and generate the ambiance of a softly lit living space by following the tips below to ensure yours is properly maintained and working efficiently before the first cold spell hits.
Clean It Regularly
Have your chimney cleaned out twice a year. The recommended number varies depending on how often you use your hearth. However, you should have it cleaned every fall to ensure it's properly vented so that smoke has a way to escape.
Also, you'll want to make sure that no animals have made their home there over the summer.
Close The Damper
Make sure you close the damper when you're not using the fireplace. You don't want to make your furnace work overtime because warm air is sneaking up and out the chimney.
Install A Chimney Cap
If your home doesn't have a chimney cap, then have one installed. These help to prevent snow, leaves, animals and other debris from falling down the chimney. Caps also help keep downdrafts from gusting into your living area.
Burn Firewood Only
A fireplace isn't the spot to burn your broken chair or ex-girlfriends photos. Painted wood, plastic and other treated wood surfaces can release chemicals into the air of your home. Worse, they can coat the interior walls of your fireplace, so you continue breathe them in for the next couple of fires.
Mount Smoke Alarms
If you don't already have them, mount smoke alarms near your hearth and in every bedroom. Consider installing combined carbon monoxide and smoke detectors if you have a home with a gas-burning fireplace.
Don't use your fireplace without taking the right precautions. Get it cleaned, and if it's your first use, then be sure to get it inspected beforehand. Make the hearth in your home the heart of your home by following the tips above to ensure it's up to snuff this fall.