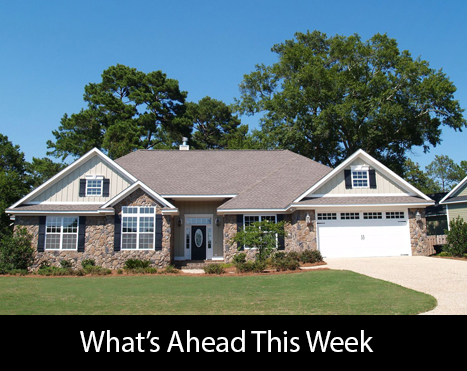 Last week's economic releases included readings on the NAHB Housing Market Index, sales of pre-owned homes, and housing starts. Weekly readings on mortgage rates and first-time jobless claims were also released.
NAHB: Home Builder Confidence in Market Conditions Holds Steady
The National Association of Home Builders reported an index reading of 67 for September, which matched August's reading. Growing concerns over impacts of tariffs on building material costs have slowed builders' confidence in current and future market conditions.
Components of the NAHB Housing Market Index include readings on current conditions, which gained one point to 74; builder confidence in market conditions over the next six months gained two points to a reading of 74. The HMI reading for buyer traffic in new housing developments was unchanged with a reading of 49. Readings for buyer traffic are typically below the benchmark index reading of 50. Readings over 50 indicate that most home builders are confident about housing market conditions.
Builder confidence is considered an indication of future housing supplies as builders may adjust their construction plans on market conditions and building costs. The Commerce Department reported higher housing starts in August with a seasonally-adjusted annual rate of 1,282 million starts. Analysts predicated a rate of 1.249 million starts based on July's reading of 1.168 million starts.
Sales of Previously-Owned Homes Unchanged
The National Association of Realtors® reported sales of previously-owned homes held steady in August, with homes sold at a seasonally-adjusted annual rate of 5.34 million sales. Analysts expected a reading of 5.37 million sales. Home sales have faced headwinds in recent years with high demand and low inventories of available homes driving up home prices faster than inflation and wage growth. Recently rising mortgage rates also impacted affordability and sidelined would-be buyers with moderate incomes.
Mortgage Rates Rise; New Jobless Claims Fall
Freddie Mac reported higher rates for fixed-rate mortgages with the average rate for a 30-year fixed rate mortgage rose five basis points to 4.65 percent. The average rate for 15-year mortgages also rose by five basis points to 4.11 percent. Rates for 5/1 adjustable rate mortgages dipped by one basis point to 3.92 percent. Discount points averaged 0.50 percent for fixed rate mortgages and 0.40 percent for 5/1 adjustable rate mortgages.
First-time jobless claims fell to 201,000 claims filed as compared to expectations of 208,000 new claims filed and the prior week's reading of 204,000 new claims filed. This was a 49-year low; analysts cited Hurricane Florence and overall economic expansion.
What's Ahead
This week's scheduled economic news includes readings on home prices from Case-Shiller, new and pending home sales and inflation. Weekly reports on mortgage rates and new jobless claims will also be released.