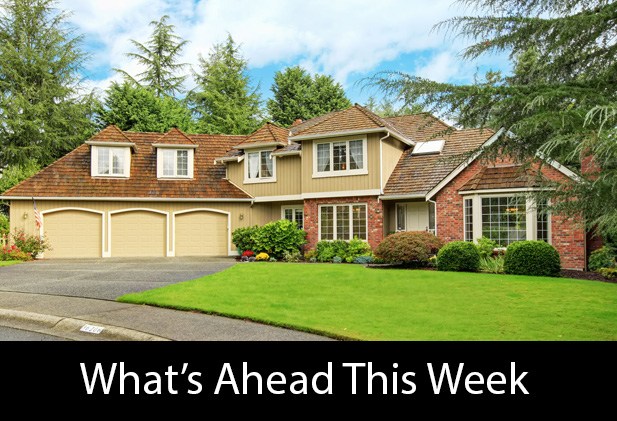 Last week's economic readings included reports on home prices, new and pending home sales and remarks released by the Federal Open Market Committee of the Federal Reserve. Weekly readings on average mortgage rates and first-time jobless claims were also released.
Case-Shiller HPI: Home Price Growth Slows in July
Home prices grew slower in July according to data released last week. Home prices rose at a seasonally-adjusted annual rate of 6.0 percent in July as compared to June's rate of 6.2 percent growth. Analysts cited increasing inventories of homes available, which typically increases competition and lowers asking prices. Would-be home buyers have also suspended their home searches due to slim supplies of homes and competition with cash buyers.
New and Pending Home Sales Show Mixed Results
Sales of new homes rose in August according to the Commerce Department. New homes sold at a seasonally adjusted annual rate of 629,000 sales. Analysts expected a reading of 625,000 sales New home sales grew by 3.50 percent from July to August and were 12.70 percent higher year-over-year. New homes sold for an average price of $320,200 in August, which was a year-over-year price increase of 1.90 percent.
Pending home sales dipped in August with a reading of – 1.80 percent in August as compared to July's reading, which was also negative at 0.80 percent. Pending sales typically slow as fall approaches and peak hone buying season ends. Pending home sales indicate what's ahead in closed home sales and mortgage loans. Analysts said that government readings on home sales are gleaned from small samples and are subject to adjustment.
Mortgage Rates, New Jobless Claims Rise.
Freddie Mac reported higher mortgage rates last week after the Federal Reserve announced that it would raise its target federal funds range to 2.00 to 2.25 percent. Analysts said that the Federal Open Market Committee dropped the term "accommodative" in its post-meeting announcement on Wednesday.
Interest rates for a 30-year fixed rate mortgage averaged 4.72 percent, which was an increase of seven basis points. The average rate for a 15-year fixed rate mortgage rose five basis points to 4.16 percent and the average rate for a 5/1 adjustable rate mortgage rose five basis points to 3.97 percent. Discount points averaged 0.50 percent for fixed rate mortgages and 0.30 percent for 5/1 adjustable rate mortgages.
First-time jobless claims also rose last week with 214,000 first-time claims filed as compared to expectations of 216,000 new claims filed and the prior week's reading of 202,000 new claims filed. High numbers of claims filed in Kentucky, North Carolina and South Carolina suggested that the jump in initial claims related to Hurricane Florence.
What's Ahead
This week's scheduled economic releases include readings on public and private-sector jobs growth, the national unemployment rate and construction spending. Weekly readings on mortgage rates and new unemployment claims will also be released.