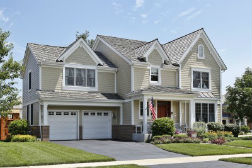 Last week's economic news was highlighted by Fed Chair Janet Yellen's speech in Philadelphia. Although Chair Yellen alluded to future Fed rate hikes, she did not specify when Fed policymakers would next raise the target federal funds rate.
Increases in the fed funds rate typically signal increases in consumer credit and home mortgage rates. Last week's speech was seen as a precursor to the Federal Open Market Committee statement that will occur at the conclusion of next week's FOMC meeting.
Chair Yellen is also scheduled to give a press conference after the FOMC statement next Wednesday.
Mortgage rates and new jobless claims also fell last week.
Fed Chair Speech: Fed Rate Increases Likely, but Subject to Economic Developments
Fed Chair Janet Yellen said that remarks would be "largely favorable" although economic developments were "mixed." Chair Yellen cited economic progress toward the Fed's dual goal of achieving maximum employment and price stability. Labor benchmarks included national unemployment below five percent, rising household income and indications of rising wages were cited as positive signs for economic expansion.
Slowing job growth and inflation staying below the Fed's goal of 2.00 percent were cited as signs that the U.S. economic recovery is underway, but Chair Yellen also said signs of slower job creation along with uncertainties in global economic conditions and oil prices prevented short-term predictions about how the economy would perform.
Fed Chair Yellen also repeated her usual caution that Fed policy is not set in stone, but instead is subject to FOMC members' ongoing review of economic developments and related readings.
Mortgage Rates, New Jobless Claims Lower
Freddie Mac reported lower mortgage rates last week. The average rate for a 30-year fixed rate mortgage was six basis points lower at 3.60 percent; the rate for a 15-year fixed-rate mortgage averaged 2.87 percent, which was five basis points lower than the previous week. The average rate for a 5/1 adjustable rate mortgage was six points lower at 2.82 percent. Discount points averaged 0.50 percent for all three loan types tracked by Freddie Mac.
New jobless claims were also lower at 264,000 new claims filed against expectations of 270,000 new claims and 268,000 new claims filed in the prior week.
What's Ahead This Week
This week's scheduled economic news includes the Fed's post-meeting FOMC statement and press conference, reports on the consumer price index and core CPI, housing starts and the NAHB Housing Market Index. Reports on mortgage rates and new jobless claims will be released according to their weekly schedule.
Economic indicators such as price inflation, rising mortgage rates and housing data impact housing markets and consumers' ability or willingness to buy homes.