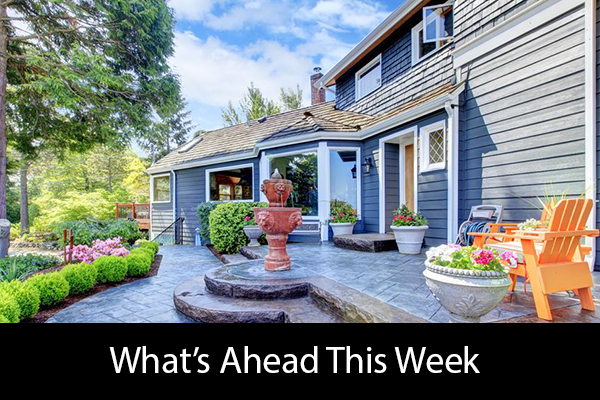 Last week's economic reports included readings from Case-Shiller Home Price Indices, new and existing home sales and weekly readings on mortgage rates and first-time jobless claims.
Case-Shiller: Home Prices Rise to Near Four-Year High
February home prices rose 6.30 percent year-over-year and 0.50 percent month-to-month. Home prices rose just shy of a record set in 2014. The 20-City Home Price Index reported home prices were 6.80 percent higher year-over-year and rose 0.80 percent month-to-month in February. The year-over-year reading surpassed the peak reading in 2006. Home prices accelerated in contrast to analyst expectations that they nay slow as buyers deal with a short supply of homes for sale.
Cities with the three highest readings in year-over-year home price growth were Seattle, Washington with 12.70 percent growth, Las Vegas, Nevada home prices rose 11.60 percent, and San Francisco, California home prices rose by 10.10 percent according to Case-Shiller's 20-City Home Price Index for February.
Severe shortages of homes and high demand in the west and in areas impacted by the housing bubble burst are driving the rapid rise of home prices; while it appears that homebuyers may be sidelined by high home prices, increasing home sales suggest that buyers may be buying before higher prices cut them out of the market.
Sales of New and Existing Homes Surpass Expectations in March
Sales of pre-owned homes rose to 5.60 million sales on a seasonally-adjusted year-over-year basis. Analysts expected a reading of 5.52 million sales based on February's reading of5.54 million pre-owned homes sold. Sales of new homes also exceeded expectations with a sales rate 0f 694,000 sales on a seasonally-adjusted annual basis. Analysts expected a reading of 634,000 new hone sales. February's reading was 667,000 new home sales. As with the boost in sales of pre-owned homes, analysts said that buyers are anxious to buy before they're priced out of the market or cannot qualify for mortgage loans.
Mortgage Rates Rise, New Jobless Claims Fall
Freddie Mac reported higher average mortgage rates for the third consecutive week. Rates for a 30-year fixed rate mortgage averaged 4.58 percent and were 11 basis points higher. The average rate for a 15-year fixed rate mortgage was 8 basis points higher at 4.02 percent; The average rate for a 5/1 adjustable rate mortgage was seven basis points higher at 3.74 percent. Rising Treasury yields were driven by higher commodity prices drove mortgage rates higher.
Economic indicators have steadily strengthened, which traditionally boosts home prices. While analysts have shown concerns over rapidly rising home prices and mortgage rates, the Mortgage Bankers Association reported mortgage applications were 11 percent higher year-over-year.
New jobless claims fell to 209,000 first-time claims filed as compared to expectations of 230,000 new claims, and the prior week's reading of 233,000 new claims filed. Lower jobless claims indicate fewer layoffs and strengthening labor markets.
What's Ahead
This week's economic releases include readings on inflation, job growth, and national unemployment. Weekly readings on mortgage rates and new jobless claims will also be released.