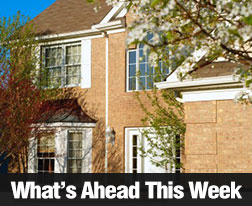 Last week's housing related news was lean, with no scheduled reports released other than Freddie Mac's primary mortgage market survey.
We'll start with some good news. The University of Michigan / Thompson-Reuters Consumer Sentiment Index reported its highest reading in more than seven years. November's reading of 89.4 surpassed the expected reading of 88.0 and was higher than October's reading of 86.9
Mortgage Rates Near 4.00 Percent, Weekly Jobless Claims Up
Freddie Mac reported a one-basis point drop in the average rate for 30-year fixed rate mortgage from 4.02 percent to 4.01 percent; the average rate for a 15-year fixed rate mortgage also fell by one basis point to 3.20 percent.
The average rate for a 5/1 adjustable rate mortgage rose by 5 basis points to 3.02 percent. Discount points for all three loan types held steady at an average of 0.50 percent.
Weekly jobless claims rose by 12,000 to 290,000 against expectations of 280,000 new jobless claims filed and the prior week's reading of 278,000.
Last week's report was the ninth straight week that new jobless claims came in under 300,000. The reading for the four-week rolling average was 285,000 new jobless claims, which represented an increase of 6,000 new claims.
What's Ahead
This week's number of scheduled economic reports will be more robust. The NAHB Housing Market Index, Housing Starts and the National Association of REALTORS® Existing Home Sales reports will be released.
The minutes of the most recent Federal Open Market Committee (FOMC) meeting of the Federal Reserve will also be released along with weekly mortgage rates and jobless claims data.